We develop international initiatives
of entrepreneurs
We are strengthening the international dimension
We create awareness and point out the benefits of cross-border activities, and a community of relationships.
We increase the attractiveness of business
Thanks to information, we enable entrepreneurs to perceive business on an international level.
We reduce European differences in business
Our medium will make it possible to learn about the decision-making processes of entrepreneurs using internationalization.
We provide business internationalization resources
We eliminate the absence of information through local barriers and provide information, education and action resources.
We provide consultations and development of entrepreneurs
We provide consultations and distance mentoring to entrepreneurs on their way to internationalization.
We reduce business risk and increase stability
nternational insight and methodology brings a more relevant view of business, expands the segment and opens up new opportunities.
Why internationalize business?
Because the world offers possibilities
Internationalization of business?
Internationalization of business is a relatively modern concept in the Czech Republic, but it has existed in the world for a very long time. McDougall and Oviatt already discussed this area in 2000 when they defined INT as a strategy combining innovative proactive and risk-taking behavior that transcends national borders.
Business Angels in the world.
Abroad, Business Angels represent the second largest source of external financing for newly established businesses. They contribute significantly to economic growth and technological progress. The European Commission has called on EU countries to support angel investments, especially across borders. Did you know that you can also use this cooperation model?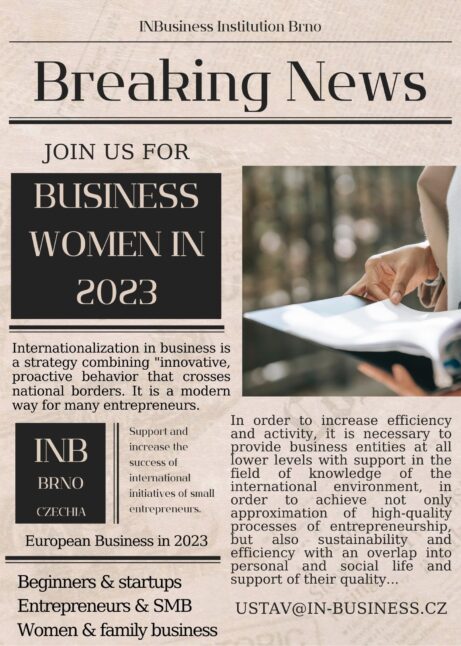 Are you running a business or have an idea that goes beyond the pursuit of profit? Do your activities have a positive impact on society, moral goals, safety or health? Are you open to cross-border cooperation and not afraid of English? Would you like to get new information not limited by local barriers? Are you drawn to challenges that allow you to connect with your European neighbors? Do you want to acquire a different segment or expand your client base? Do you simply want to do business differently to withstand crises? Do you want to have a modern business and be IN? Then you should internationalize your business.
Support an international initiative in Europe!
Your business development will increase horizons that will have an overlap. New knowledge will also influence the society in which you move. You can influence more than just your business, but first you have to start with yourself - INBusiness.